When shooting on the run, it's important to travel light. Spending a weekend in New York City to see Robert Wilson's production of Brecht's The Threepenny Opera at the Brooklyn Academy of Music and Danfung Dennis's 5D Mark II documentary, Hell and Back Again at the Film Forum, I squeezed in some time to shoot the Occupy Wall Street protest in Zuccotti Park.
I had easy access to many different subjects and I handheld all of the shots (with no rig attached to the camera). I kept the camera close to the subjects so as to get their audio clear on my mic (see details below).
Not planning to do any heavy production, I only packed the Canon 5D Mark II body with two Zeiss Contax lenses (purchased used at KEH.com) — 50mm 1.4 and 35mm 2.8 — as well as my Sennheiser ME64/K6P mini shotgun (great for interviews/dialogue), as well as one battery and charger. Outdoors, I wish I had brought along my ME66 shotgun mic, but I couldn't find my good windscreen, so I utilized my low profile ME62.
Light run and gun setup: Sennheiser with Lightwave windscreen and ETS stepdown XLR to minijack cable. Magic Lantern was used to monitor and adjust levels. Zeiss Contax 50mm 1.4 and 35mm 2.8 lenses were used with a Lightcraft ND fader.
I attached it to the hot shoe mount using a shockmount, and plugged it directly into the mic input of the 5D using the new XLR to minijack camera balun, the ETS PA910 series, providing a low to high impedance connection to the camera. In other words, in a pinch, it'll provide decent audio when you don't have a separate digital audio recorder on hand (such as the Zoom H4n or a Tascam DR100). (For sale at Markertek for about $62.)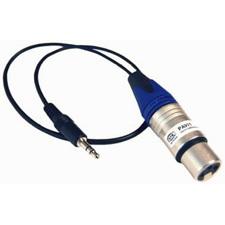 Most importantly, I  utilized the Magic Lantern, so I could see audio meters while recording and monitor the audio by plugging into the AV port of the 5D.
I shot the project handheld with no strap, no DSLR rig. The omnidirectional aspect of the ME62 picked up a lot of side and background noise, but it ended up adding to the atmosphere of the piece. Furthermore, I stood close to the subject, so the microphone was less then three feet away. I shift my head to the left, while hand-holding the camera, so the subject being interviewed would look at me and not the camera.
My friend, Stacey Sotosky, edited using Final Cut X.
A good shock mount can be purchased here: http://www.bhphotovideo.com/c/product/554681-REG/Pearstone_DUSM_1_DUSM_1_Universal_Shockmount_for.html
—————————
Kurt Lancaster, PhD, is the author of DSLR Cinema: Crafting the Film Look with Video, Focal Press, 2011 and Video Journalism for the Web: A Practical Introduction to Multimedia Storytelling, Routledge, 2012. He teaches digital filmmaking and multimedia journalism at Northern Arizona University's School of Communication.
Share on Facebook